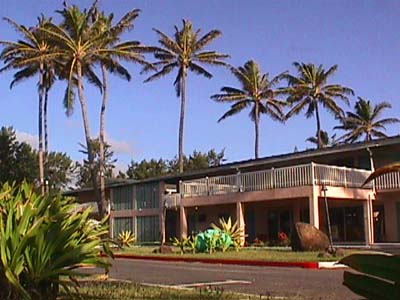 See the big list of all La'ie Walking Tour slides
Map of Laie
The Laie Walking Tour was created in July 2001
by BYUH Student Michael H Sarafian.
Enjoy things the way they were back then!
Join a Tour Group: START Auto Advance
002 Next: Hukilau Resort Beach Access
526 Back: About the Author

---

This tour will help you explore the beautiful town of La'ie, where you can enjoy sun and surf, visit the world famous Polynesian Cultural Center right next door, go hiking, swim at a waterfall, see historical sights and much more all in walking distance. The Resort is also minutes away from horse riding, shrimp farms, golf courses, art galleries, orchid farms and much more! Feel free to ask the friendly staff for directions to any of these places.


---
Take Control: Where would you like to go next?
115 Left: Kamehameha highway
039 Go to: Clissold's Beach
018 Go to: La'ie Point
059 Go to: "The bath tub"
077 Go to: Pounders Beach
265 Go to: Goat Island
096 Go to: View of Mahakea Beach
116 Go to: Polynesian Cultural Center
285 Go to: Temple Beach
245 Go to: Hukilau Beach
257 Go to: Malaekahana State Park
293 Go to: La'ie Hawai'i Temple
366 Go to: BYU-Hawai'i
440 Go to: La'ie Falls Hike
238 Go to: La'ie Shopping Center


© 2001, Michael Sarafian