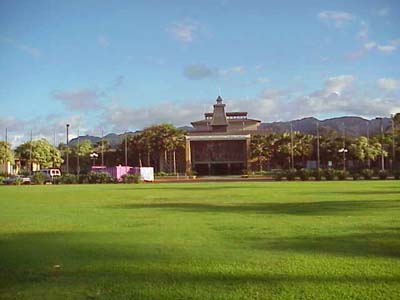 Return to Beginning of tour
See the big list of all La'ie Walking Tour slides
Map of Laie
Join a Tour Group: START Auto Advance
367 Next: McKay Foyer front entrance
365 Back: BYU-Hawai'i front entrance

---

Tours of the campus are available Monday through Friday (except holidays) from 9 AM to 4 PM. The walking tour takes 1 hour. With a few clicks you can see some of the places that are visited on the tour.

If you would like to find out more about BYU-Hawaii visit http://www.byuh.edu/about/

Alumni and student discount rates available at the Hukilau Resort.


---
Take Control: Where would you like to go next?
375 Left: Aloha Center
384 Right: Library
409 Go to: Canon Activities Center
382 Go to: Cafeteria
393 Go to: Dormitories
378 Go to: Game room
401 Go to: Health Center
385 Go to: Library Front entrance
395 Go to: Natural History Museum
403 Go to: Swimming Pool
402 Go to: Tennis Courts
408 Go to: Weight Room
424 Go to: Temple View Apartments


© 2001, Michael Sarafian